Throughout the NFL season, our staff creates two sets of playoff brackets based on the current standings, as well as divisional, conference, and Super Bowl odds.
We create these early NFL Playoff pictures to offer a comparison that gamblers can use to see an illustrated version of where we are and what the betting projections suggest.
When it comes to NFL betting, we don't like to leave any stone unturned. These images expose gaps in the gambling marketplace that can be exploited for cash winnings.
Our staff has found that the NFL odds that are offered at online football betting sites are often too focused on what is happening today. It is relatively easy to project a winner of an NFL division based on the overall talent and performance of the four teams involved.
What gets difficult is forecasting how far that division winner will advance in the NFL Playoffs when factoring in games that will played at home and on the road.
Here is how the NFL Playoff picture would look if the season ended after three total games.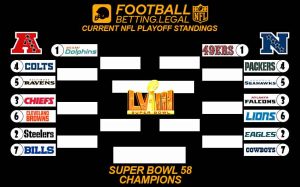 In comparison, here is the current NFL Playoff bracket based on pro football futures that are offered at our favorite online sportsbook sites.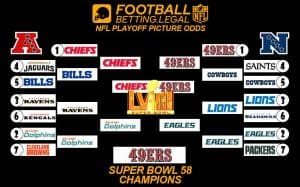 Naturally, this early in the NFL season, there will be some fairly extreme variances in what's projected versus the current reality. One standout is the presence of the Indianapolis Colts in the current postseason picture.
Due to the Colts' surprising 2-1 start, they currently hold the top position in the AFC South division. The Jacksonville Jaguars were the preseason favorite to win the AFC South, and that projection still holds after the first three weeks.
The Jaguars have compiled a 1-2 record thus far after three weeks, placing them in a three-way tie for last place. NFL oddsmakers have not altered their position on Jacksonville's postseason potential, but observant viewers have taken notice of their pathetic Week 3 loss to the Houston Texans.
Using the Jaguars as an example, readers can assess the situation and place a bet on those findings. Do you believe Jacksonville will turn the corner and right the ship, or does the Texans' loss remove any confidence you had in them going forth?
During the second half of the season, the focus shifts a little toward the path to the Super Bowl. Does the current Super Bowl favorite face an impossible path to a championship, or are they in line for inferior opponents at home?
Keep checking back here as we'll be updating these brackets through the postseason.
Source: Bovada Sportsbook, BetUS Sportsbook, ESPN